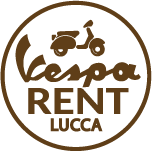 Vespa, a unique way to explore Tuscany
You can find us in Lucca!
We are a 5-minute walk from the train station in Lucca.
The train station of Lucca is 27 minutes away from the train station of Pisa, 17 minutes away from the train station of Viareggio, and 1 hour and 20 minutes away from the train station of Florence.
Are you ready for an unforgettable adventure in Tuscany? Rent one of our Vespas and get ready to discover a land rich in wonders and surprises!
Ride along the coast of Versilia, admire the crystal-clear sea, and enjoy the sea breeze. Cruise through the hills of Lucca and Pisa, where you can taste the best local wines and admire breathtaking landscapes.
The Garfagnana awaits you with its enchanted forests and ancient villages. And if you want to explore further, why not head to Pisa and discover its beauty? Marvel at the famous Leaning Tower and visit the stunning Piazza dei Miracoli.
Don't miss the opportunity to explore Tuscany on our Vespa! Choose your preferred route and let yourself be conquered by the beauty of this wonderful land!
Daily Rent
Price
Price include:
Self drive rental
Insurance coverage (civil liability)
Rental day from 10 am to 7 pm
100 km for each day (km in excess extra cost of euro 1,00 per km)
Optionals:
1 full tank € 20,00
Drop Off to another rental point (contact us)
Phone Holder € 3,00
Second driver € 10,00
© Copyright 2022 | Drivethevintage.com Lucca, Tuscany, VAT 02462100468